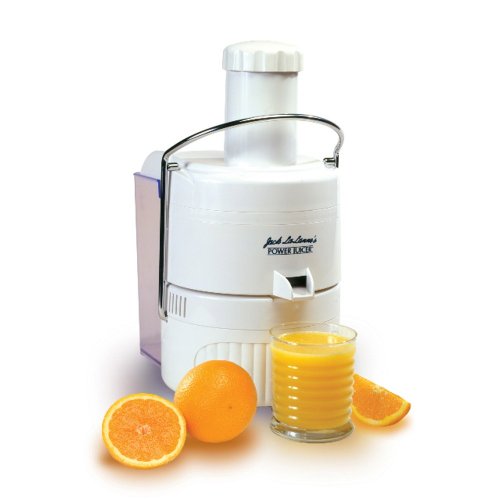 Juicers come in all shapes and sizes. They also cater for every class of clientele from the rich to those with a more thrifty background such as the Jack Lalanne JLPJB Power Juicer.
While juicing machines marketed by companies such as Breville target the well heeled, not everyone needs a plus $200 machine.
 The $85 Jack LaLanne JLPJB Power Juicer Juicing Machine quite attractive.
Features
Has a 3,600 rpm motor which is extremely silent
Compact design just 18X15X9 inches, suitable for a counter top
Stainless steel cutting blade
Large food chute
Lifetime warranty on motor
60 days money back guarantee
Reviews
Customers give positive feedback about this product for its compact design, quiet operation and nominal efficiency of cutting and juicing.
The machine cuts through fruits and vegetables with ease. What you get is a thick juice according to the observations of one customer, which is good because the juice contains all the nutrients that you want.
The motor is powerful enough to do the job of juicing but the pulp does not come out as dry as it does in a Breville machine, but then you pay twice the cost for a Breville machine and therefore such a comparison is not justified.
The body is made out of white plastic, which is a downside because it can get dirty quite quickly if you do not take care. The parts are easy to clean but you must clean immediately on completion of juicing. If you let the juice or the pulp harden, then you are looking for anything up to an hour of useless work.
Some customers had issues with the spindle of the blade, which they say tends to break because it is made of plastic. This is a negative point as other more expensive machines have the revolving parts made of stainless steel.
When it comes to juicing fruits and vegetables, the Jack LaLanne JLPJB Power Juicer does a pretty decent job. It is juicing leafy vegetables, which is not as well done. However, any veteran juice maker will tell you that if you want leafy vegetables to be juiced, wet them and add them along with some softer vegetables, they will juice better.
A few customers felt that the machine was a bit underpowered. Well for a sub $100 machine what do you expect? While Jack himself is a strongman, his product is aimed at a much weaker section of the paying society, so for an entry level machine the Jack LaLanne JLPJB Power Juicer Juicing Machine is good enough.
The machine delivers on what it promises to do. It is quieter than most other juicers and it lasts a decent time. This is a suitable product for those who are looking for an occasional use machine and not for heavy duty daily use.
It is cheap and reliable to a point. While customer reviews of this product are evenly split in its approval rating, none can deny the fact that it is a good cheap product which is worth a try. Click here to try it.